---
Back
What's New on MyHealth Online
show all
SMART Health Card: Proof of COVID-19 Vaccination Status (September 2021)
The COVID-19 "SMART Health Card" allows for a digital or printable version of your COVID-19 vaccination or testing information. Patients can now access a copy of their COVID-19 record through MyHealth Online and easily share their vaccination or testing information with others by using a QR code on their mobile device or printing a copy from their medical record.
How it works:
Get it from the COVID-19 activity
Save it - you can take screen shot with your phone, or save a paper copy
Share it with others if you choose. For example, you might share it to show your vaccine status for school registration or to travel. You share a SMART Health Card by letting someone (with a compatible scanner or app) scan the QR code on your paper or phone screen.
The vaccination QR code contains only the following information:
Your name
Your date of birth
Details of your COVID-19 vaccination record
More information:
While you can take a picture or screens shot of the QR code with your phone to save a copy, it will not work to scan the QR code with your phone. It must be scanned with a program or app designed to verify a SMART Health Card (for example, at an event or airport).
The QR code is not intended to verify your identity. Be prepared to present other forms of identification, such as a driver's license.

International travelers

: you might not be able to access MyHealth/MyChart from outside the United States. If you are traveling abroad, plan to have saved copies of QR codes and/or medical information with you.
You should only share your SMART Health Card information with trusted organizations that tell you what they intend to do with your data and/or if they will keep it. If you are not comfortable with the organization seeing the information in your SMART Health Card, you should not share it.
You may see one or two QR codes in your COVID-19 activity. One contains COVID-19 vaccination verification. One contains COVID-19 test results. They are not interchangeable and contain different information. For example, a test result QR code may not be readable at an event only verifying vaccination status.
More information on SMART Health Cards. The SMART Health Card Verifier App is an example of an app that can verify COVID-19 vaccination SMART Health Cards (it does not verify test results).
Pre-Visit Update for Appointments (May 2021)
In order to make your check-in process easier, better promote safety and social distancing, and get you to your appointment faster, we have updated our Pre-Visit Update process. If you access your account using the MyChart app on your mobile device, you can now check in online, answer a few questions, pay your copay, e-sign any documents or waivers, and be all set for your appointment!
How to Use Pre-Visit Update for Your Appointment:

Before Your Appointment
You can complete the pre-check in process on the day of your appointment. To do that, please follow these easy steps:

Step #1. Log into your MyHealth Online account on your desktop computer or through the MyChart Mobile App on your phone.

Step #2. Scroll down the main screen to find your appointment and select it. You can also go to "Visits" from the menu and find your upcoming appointment there.

Step #3. Click on "Pre-Visit Update" and confirm we have current information about you and your insurance, medications, and any allergies. You will also be able to electronically sign any needed forms and pay copays online. Make sure to check "This information is correct" at the end of each step to proceed to the next.


Step #4. By answering the COVID-19 same day symptom questions ahead of your arrival at the practice, you will not need to spend additional time answering them in person.

Step #5. After you've completed all the sections in the Pre-Visit Update, hit Submit. You know you've completed all the steps of the Pre-Visit Update successfully when you see the following screen.
When You Arrive for Your Appointment
Step #1. Log into your account on the MyChart Mobile App and select the "I'm Here" prompt which will display on the home screen within 30 minutes before your appointment time. Want to set up geolocation services to receive a push notification when you're close by? Complete a few simple steps in the MyChart mobile app. Note: If the geolocation doesn't work for you, please manually log into your MyChart mobile app and select "I'm Here."


Step #2. If you successfully completed the Pre-Visit Update before you arrived for your appointment, the app will then display the green welcome message (left image). If you didn't have a chance to start or couldn't fully finish the Pre-Visit Update, the system will prompt you to complete it at this time. If you are able to successfully complete it, you will see the green Welcome screen (2nd image from left), but if we need some additional information, you will see one of the Almost Done screens (right-side 2 images), and we can identify what's missing when you stop at the registration/check-in desk before heading to your appointment.


Step #3. Upon entering the building, please show the "Welcome" or "Almost Done" screen to the check-in staff, and you will be directed from there.
New MyHealth Design (April 2021)
We have updated MyHealth Online with a new design. We updated both the website and the MyChart app to enable a similar experience when you log in on your computer or on your phone.
MyHealth has all the helpful features you've come to know, with an improved layout that's easier to use. The website and MyChart app now share the same menus, customizations and features.
The first time you log in after the update, you'll see a brief one-time tutorial.
The new design for the website: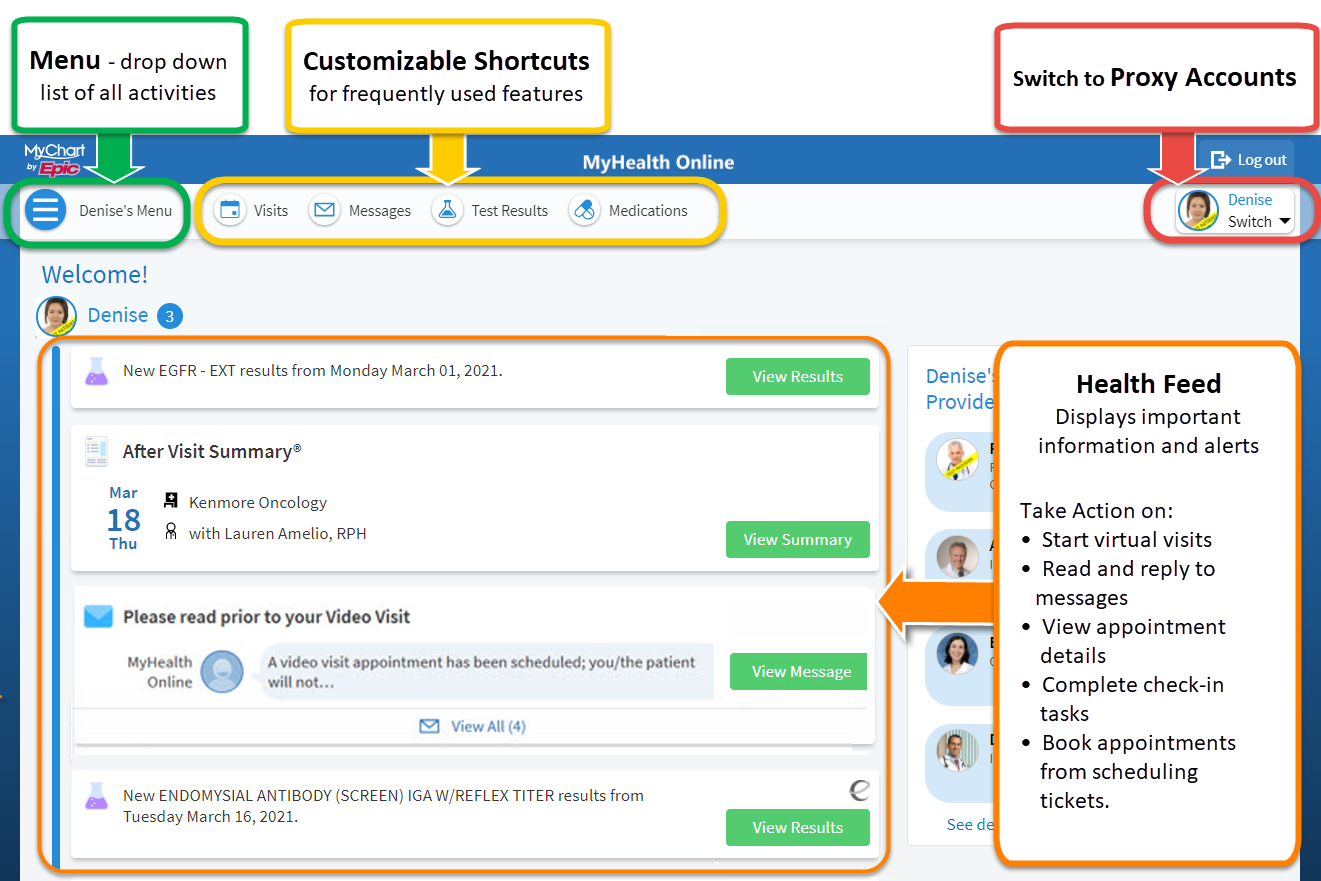 Click image to enlarge
---
The new design for the MyChart app: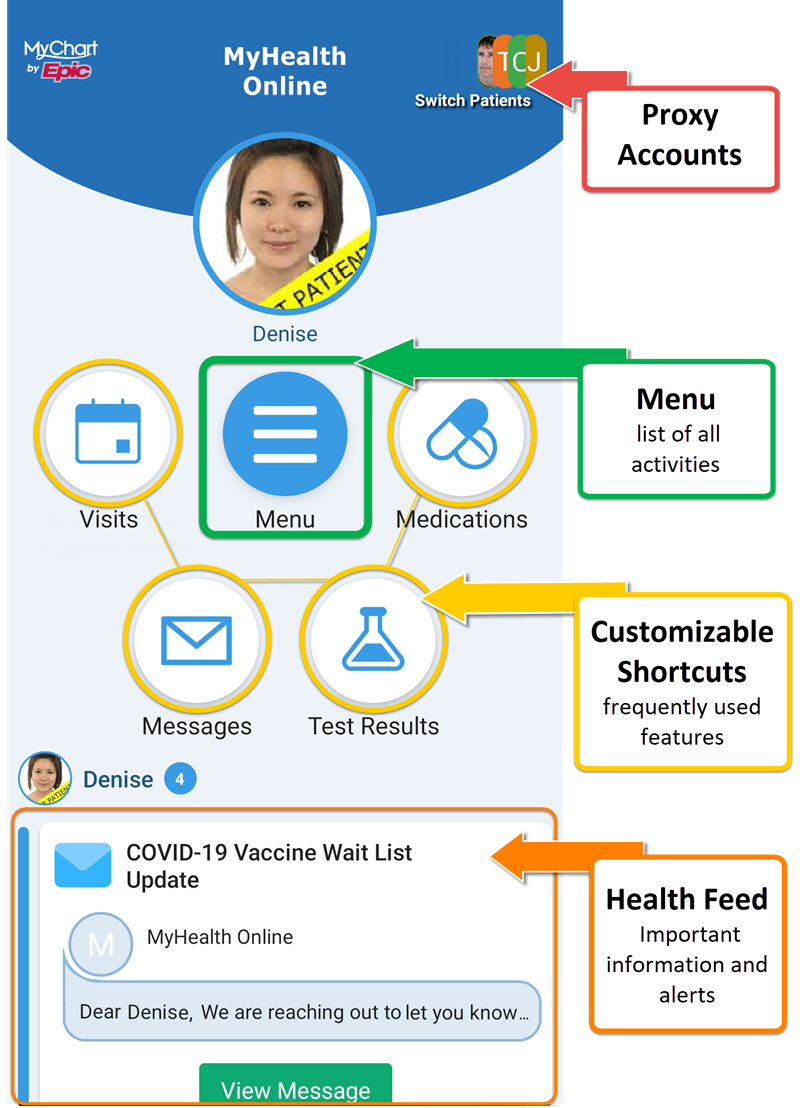 Click image to enlarge
---
Helpful tip:
To find what you're looking for when using the new menu, type a few letters to filter the features.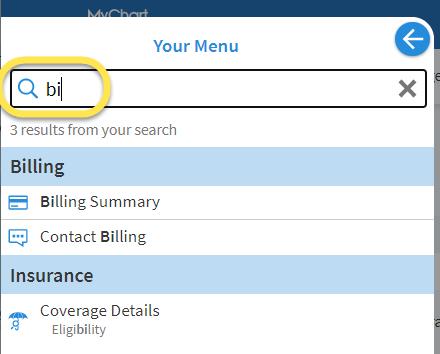 ---
Watch a video on the new desktop website design:
Watch a video on the new MyChart mobile app design:
Results Released Immediately (April 2021)
In order to more fully engage patients in their care, Atrius Health is sharing most test and lab results to MyHealth Online and the MyChart App as soon as they become available
When will I hear from my provider? Typically, you will have access to results before your provider has had the opportunity to review them and contact you. In most cases, you will hear from your provider's office within a few days to review the results.
You can decide when to view results: You may prefer to view results right away, or you may choose to wait for your provider to contact you. When deciding, consider what the test was for and keep in mind that some test results may be hard to understand or show evidence of serious illnesses like cancer.
Additional information and resources: When reviewing results on your own, it is very helpful to know that not all results marked as "abnormal" are clinically concerning. You'll find links to useful informational resources on MyHealth and in the MyChart App at the top of the results tab. Please be aware that results for multiple tests done on the same day may not all become available at the same time.
What should I do if I have concerns? If you have concerns, please contact our offices via telephone or by sending a MyHealth message.
Visit Notes Available (March 2021)
As of March 2021, you will be able to see visit notes that your providers write based on your visit with them. You can view your visit notes in the details of your Past Appointments.
Atrius Health believes in the importance of transparency and patient access to this information as well as the real health benefits for our patients when they can see these notes. Studies have shown that sharing notes has the potential to help you improve your health and well-being by:
Strengthening your relationship with your provider.
Helping you manage your health care in a way that makes you feel more confident, prepared, and in control of your health.
Making it easier for you to provide accurate and current information to caregivers.
Improving your understanding of and ability to follow-up on care, such as proper use of medications or a new treatment regimen.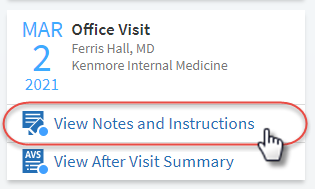 What Exactly Are Visit Notes?
After your in-person or virtual care visits, doctors, nurses and other health care providers write Visit Notes that summarize important information about you. These notes become a part of your medical record. They are sometimes referred to as "open notes" because they have been shared with you. A note may include:
A summary of what you told the doctor or nurse, also called a "history."
The provider's findings from a physical exam. Examples might include blood pressure and weight, how your lungs or heart sound, a description of a growth on your skin, or observations about your mood.
Summary thoughts about any medical conditions or symptoms, also called an "assessment" or "impressions."
Recommendations made during the visit, often called the "treatment plan,"" or "plan of care." The notes might include tests, follow up appointments, referrals, exercises, or changes in your diet that your provider recommends for you.
How notes look depends on a few things, like who writes the note or the kind of visit it was and the reason for the visit (for example, a follow-up visit or a physical). Sometimes the notes are short; others may be more detailed.
You can view your visit notes in the details of your Past Appointments. For care visits you have after March 1, 2021, there may be a link called "View Visit Notes," which will show you the notes that your provider recorded at that visit.
Will All My Notes be Shared with Me?
There are situations in which your, or your child's health information will not be visible in MyHealth Online. For example, your notes may not be visible to protect the privacy of an individual or to prevent harm to you or another person.
Please also be aware that if YOU do not want a provider's visit note available, you can ask your provider not to display it. Your provider will retain the note in their documentation of the visit, but it will not display in your MyHealth Online account.
Why Won't My Teenager See Notes in Their MyHealth Account?
Our pediatric providers routinely discuss sensitive topics, such as sexual activity and substance use, with our adolescent patients. When we do this, we document information in notes that an adolescent may wish to keep private from their parents. Parents may also discuss information with their child's providers that they wish to keep confidential from their child. Unfortunately, our electronic health record is unable to separate material intended to be kept confidential from non-confidential information. For this reason, we are not sharing notes for adolescents ages 13-17 years old with patients or their parents/proxies at this time.
What if I Have Questions or Concerns about the Information in My Note?
Your note may have medical language that's not easy to understand. You can find a lot on the Internet, but try to make sure it comes from a reliable source. View this list of common abbreviations from medlineplus.gov to help you with medical terms. If you have questions, write them down. Follow through, whether with a friend, your provider, or any source you trust.
If you find an inaccuracy in your note and you feel it is a serious issue, contact your provider's office. For other inaccuracies, write down the correction and bring it to your provider's team's attention so your records can be updated. Clinicians often dictate their notes, and small spelling or grammatical errors sometimes arise in voice recognition. If these less immediate issues feel important, bring them up at the next visit with your provider.
What if I'm worried about what I might read?
Reading notes about medical appointments may not be right for everyone. Follow your instincts. For some people, just knowing that the notes are available is enough. Thousands of patients report benefits from reading notes. In fact, reading notes often builds or reinforces your trust in those taking care of you.
Video Visit Information
Expanded Set of Test Results Available (October 2019)
On October 7, 2019, we expanded the test results available in your MyHealth Online account. Some of the additional test results now available include HIV, pregnancy, sexually transmitted disease (STD), and genetic testing (if the tests were ordered after October 7, 2019). If you have authorized someone to be a proxy for your MyHealth Online account these test results will be viewable by both you and your proxy.
If you wish to change your settings and revoke your proxy's access to your MyHealth Online account, you may do so when logged into your MyHealth Online account. Revoking proxy access is effective immediately if done via MyHealth Online.
If you would like to remove a proxy from your account:

Log into your MyHealth Online account on the website (not available on the MyChart app)
In the "Preferences" menu, select "Personalize"
People you have authorized to be your proxy will be listed in the "Who Can View My Record?" section at the bottom of the page
Select the person you would like to remove and click the "Revoke Access" button
The person will

no longer have any access

to your MyHealth Online account
If you have any questions about revoking your proxy's access, please contact MyHealth Online Technical Support at 617-559-8057, Monday through Friday from 9:00 am - 5:00 pm, or contact us.
If you have a question about a specific test result, or question relating to your medical record, please send your provider a secure message after logging into your account ("Messaging" menu > "Get Medical Advice (New Message)."
For information about proxy access, including how to become authorized to view another patient's online record, or authorizing another person to have access to your online record, see Proxy Access.